Wyview Park Fall-Winter 2018-19 and Winter Only 2019
Communities Available
Fall-Winter 2018-19 and Winter Only 2019

Community for returning residents and those who turned 19 prior to January 1, 2018.
---
Wyview Park,
located in the northwestern corner of campus
, provides residents with apartment-style living. Each 2 and 3 bedroom apartment is furnished with a refrigerator, microwave, stove, oven, ironing board, dining table and chairs, and seating furniture. Bedrooms are furnished with bed(s), desk(s), chair(s), and two sets of drawers per student. In addition, there is a closet (or two, depending on the apartment configuration) - which allows for more storage. Wyview Park residents are not required to have a meal plan, but are still encouraged to do so.
Click here for meal plan information.
Rental payments include wireless internet access*, Residence Life activities, and all utilities except electricity. Electric bills are divided evenly between all residents of an apartment and then posted to the student's university account.
*Residents now have the freedom to bring their own compatible wireless router and connect it to a BYU network data jack in their apartment for internet access. Click here for more information.
Note: Provo City Power charges do not coincide with housing payment schedules; consequently, residents may receive electricity charges after moving out that correspond with the time of residency.
On-campus residents should obtain BYU parking registration and park in appropriate university parking BYU lots. Parking on neighboring residential streets causes congestion and inconvenience and is discouraged.
Shared Room
The shared room at Wyview Park provides students with a great price and plenty of space. Each shared room is furnished with an L-shaped lofted bed set with extra-long mattresses, 2 desks, 2 chairs, and 2 sets of drawers per student.
Rates
Fall-Winter 2018-19 - $2,500
Winter Only 2019 - $1,244
View the full payment schedules
Private Room
The private room at Wyview Park offers students the comfort and privacy of a single room for the lowest price around. Each private room is furnished with a extra-long twin bed, desk, chair, and set of drawers.
Rates
Fall-Winter 2018-19 - $3,220
Winter Only 2019 - $1,603
View the full payment schedules
Floor Plans
2 Bedroom Apartment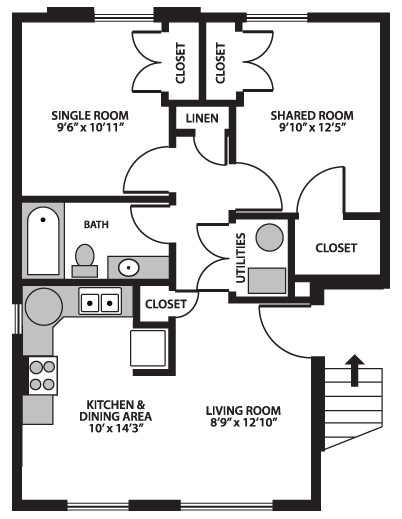 3 Bedroom Apartment