Heritage Halls Fall-Winter 2018-19 and Winter Only 2019
Communities Available
Fall-Winter 2018-19 and Winter Only 2019

Community for returning residents and those who turned 19 prior to January 1, 2018.
Community for 2018 high school graduates.
---
Heritage Halls,
located on the east side of campus
, provides apartment-style living for students. Residents may select a
meal plan
to allow them to purchase groceries from the Creamery Outlet or Creamery on Ninth, or eat at on-campus dining locations. Wireless internet access* is available to each resident of Heritage Halls.
*Residents now have the freedom to bring their own compatible wireless router and connect it to a BYU network data jack in their apartment for internet access. Click here for more information.
Each resident in Heritage Halls is provided with a bed, closet, desk, chair, and dresser drawers. Each apartment is furnished with a refrigerator, microwave, stove, oven, dishwasher, ironing board, dining table and chairs, and seating furniture. Rooms come without decor.
On-campus residents should obtain BYU parking registration and park in appropriate university parking BYU lots. Parking on neighboring residential streets causes congestion and inconvenience and is discouraged.
Prospective residents should be aware that
there is no on-site parking available at Heritage Halls
. Students who believe they must have a vehicle at school may want to consider living at Helaman Halls or Wyview Park (19 and older only), where on-site parking is available. If Heritage Halls is still your favorite option, off-site parking is provided at a designated lot; although this lot is on campus, it is not in the immediate vicinity of Heritage Halls. Please
click here
to view a map with the alternate parking identified. Heritage Halls residents do not need to pay to park in the designated off-site parking.
Rental payments include all utilities, internet access, and Residence Life activities.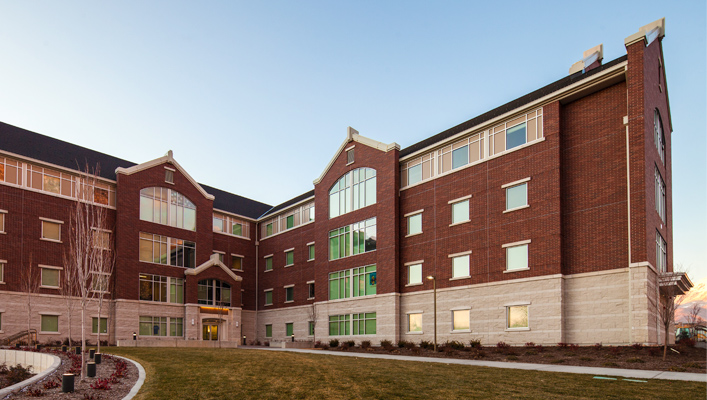 Heritage Halls
Welcome to the newest buildings on campus! Most apartments have 3 shared bedrooms with 2 bathrooms. There are a few 2 bedroom apartments with 2 shared bedrooms and 1 bathroom, and a few 2 bedroom apartments with 2 private rooms and 1 bathroom available (one of the private rooms is for the RA).
Rates
Shared Room
Fall-Winter 2018-19 - $3,660
Winter Only 2019 - $1,822
View the full payment schedules
Single Room (limited availability)
Fall-Winter 2018-19 - $4,435
Winter Only 2019 - $2,208
View the full payment schedules