Wymount Terrace
Wymount Terrace, on the northeast side of campus, comprises South Wymount (24 three-story apartment buildings) and North Wymount (48 two-story apartment buildings). The buildings are attractively landscaped with lawn and playground areas. Traffic is diverted to the outside and athletic facilities are conveniently located throughout the complexes. If you would like to tour an apartment, please visit the Wymount Terrace Office at the Wymount Terrace Multi-Purpose building or call (801) 422-2549 during office hours. Tours are subject to apartment availability.
Wymount Terrace apartments are furnished with blinds, a gas or electric stove and oven, a family-sized refrigerator, and a garbage disposal.
Housing payments are due on the first of each month, and a late fee is assessed after the 10th of the month. Monthly rates include gas, water, sewer/refuse removal, Campus Television, and a high-speed internet connection. Telephone landlines are not available. Residents are responsible for electricity. For a detailed list of available technology services, visit the Housing Technology Services page on the Office of IT website.
Residents provide their own compatible wireless router and connect it to a BYU network data jack in their apartment for internet access. Click here for more information.
Self-service laundry facilities are conveniently located throughout the complexes. Laundry machines accept BYU Cougar Cash and cash. The discounted Cougar Cash prices for a standard size washer and dryer are $0.80 and $0.38, respectively.
The multipurpose building and several basements are available for ward activities and social gatherings.
To sign a rental agreement for Wymount Terrace, see the Student Family Housing Contracting Process Instructions.
Additional Information

One-Bedroom Apartment
Rate: $695/month (through August 31, 2019)
Size: Approx. 430-450 ft2
Max Occupants: 2
Floor plans may vary based on location
| | | |
| --- | --- | --- |
| North Wymount Terrace | | South Wymount Terrace |
One-Bedroom Apartment With Study
Rate: $730/month (through August 31, 2019)
Size: Approx. 500 ft2
Max Occupants: 4
Floor plans may vary based on location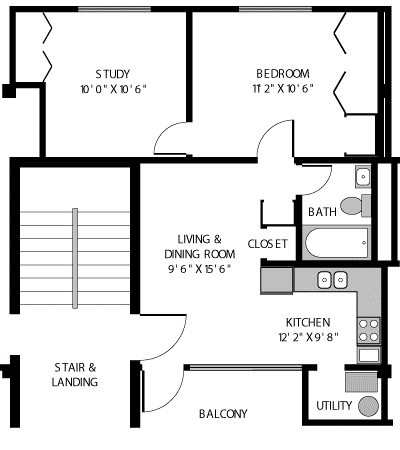 South Wymount Terrace
Two-Bedroom Apartment
Rate: $740/month (through August 31, 2019)
Size: Approx. 550-600 ft2
Max Occupants: 4
Floor plans may vary based on location
| | | |
| --- | --- | --- |
| North Wymount Terrace | | South Wymount Terrace |
Three-Bedroom Apartment
Rate: $885/month (through August 31, 2019)
Size: Approx. 750 ft2
Max Occupants: 6
Floor plans may vary based on location
| | | |
| --- | --- | --- |
| North Wymount Terrace | | South Wymount Terrace |